Rental inspections often send a shiver of dread down the spines of tenants across Australia. Often the angst is brought on by apparent scrutinising by the agents. Are they judging the way you live? Did you do your yard maintenance to their satisfaction? Did you clean the grout in the bathroom? And, if you are a landlord, you're wondering are the tenants smoking inside? Are they hiding undisclosed pets? The whole thing is stress-inducing for all parties involved, including the property manager who wants to be fair to both landlord and tenant. But it doesn't have to be so stressful. As a landlord or tenant, if you know your rights, then inspections should be a breeze. So, here is our list of what tenants and landlords need to know about rental inspections.
Who is Responsible for What?
When it comes to maintenance, there is a fairly straightforward list of what is a landlord's responsibility and what is a tenant's responsibility.
Landlord's Responsibility
Landlords are required to pay for the capital maintenance items such as:
Extensive breakages (not caused by the tenants);
Trimming trees;
Plumbing including the regular draining and maintenance of sceptic tanks and greywater; and
Major electrical works including the hardwiring of smoke alarms.
Tenant's Responsibilities
Tenants are responsible for the upkeep of the home, including:
Regularly cleaning and changing of batteries in the smoke alarms.
Changing lightbulbs when they blow;
Yard maintenance including mowing, whipper snipping and weeding.
If the rented property has a pool, the landlord is responsible for all safety measures including ensuring the pool is inspected, the upkeep of the fence and gate, structural repairs and pump and chlorinator maintenance and replacement, as necessary. The tenants are to undertake specific pool maintenance as outlined in the tenancy agreements, including purchase and application of chemicals.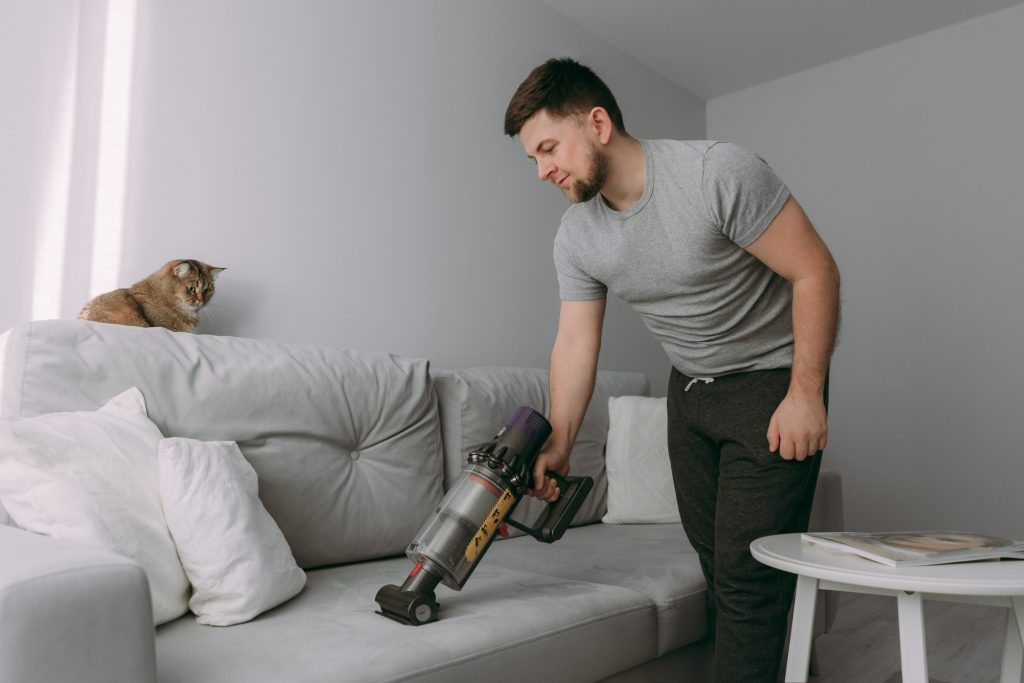 Pest Control
Pest control in rental properties is one of those grey areas that is, unfortunately, open to interpretation. Under the Residential Tenancies and Rooming Accommodation Act (2008), it merely states tenants must "take reasonable care of the premises and keep the premises reasonably clean." The assumption here is that if the home is kept 'reasonably' clean, it will keep pests away.
But when it comes to tenants who have pets, the law is more precise: the tenants are required to pay for a vacate pest control service which includes a flea and tick treatment.
All other forms of pest control, including the eradication of vermin or ant infestations, fall under the landlord's responsibility. But it is always best to check your Tenancy Agreement as sometimes pest control is handed-over as a special condition of the tenancy.
Your Inspection Rights
When it comes to inspections, the above lists of maintenance requirements will be at the forefront of your property manager's mind. This means that if the garden is overgrown, they will notify the landlord to order a tree lopper. Similarly, if they notice cobwebs around the smoke alarm, they will issue you with a notice to rectify, or a simple phone call to say, "please fix before your next inspection."
Under Queensland law, routine inspections can only be carried out once every three months during a tenancy. Tenants are to be given at least one week's written notice, via a Form 9 Entry Notice, of an impending inspection. This gives tenants enough time to make a list of any maintenance issues which they would like fixed. Obviously, any of their urgent requirements should not wait until inspection time!
If anything arises from an inspection which causes concern for the property manager, they may feel obligated to issue the tenant with a Notice to Remedy Breach. This gives the tenant seven (7) days to rectify the issue. To learn more about responding to a Notice to Remedy Breach head to the RTA website.
Preparing for an Inspection
A great place for any tenant to start is with their entry report. This allows the tenant to know the original condition of the property and the standard which they want to meet. For landlords, this report will set your expectations from the tenant.
At Coral Tree Property, we also go that extra step by providing our tenants with a checklist. This is an easy-to-follow system, allowing the tenants not to miss anything. If followed, it gives both tenant and the landlord peace of mind knowing the maximum has been done to maintain the property. It also helps reduce the anxiety of possibly receiving a Notice to Remedy Breach.
Key Take-Aways
We have given you a lot of information here, so allow us to provide you with the highlights:
For Landlords:
Landlords are responsible for capital maintenance, particularly relating to safety matters of their property;
Landlords are obligated to ensure the property is pest and vermin free;
We recommend Landlords refer back to their entry condition report before and after each rental inspection to ensure their property is adequately maintained;
If there are any maintenance concerns, your tenants have seven days to rectify.
For Tenants:
Tenants are responsible for minor repairs such as light bulbs and battery changes to smoke alarms;
Tenants must notify the property manager immediately of any major repairs which need to be carried out;
Tenants are responsible for vacate pest treatments, including flea and tick treatments if they had pets;
Tenants are to receive a minimum seven days written notice of an impending inspection; and
Tenants must be given seven days to rectify any issues which arise from a routine inspection.
Remove the Stress of Inspections
Ease the burden of inspections by engaging an agent who genuinely cares about their landlords and tenants. At Coral Tree Property, we will take the time to explain all of your rights and provide those handy inspection checklists, so you know exactly what is expected of you at each inspection.
What have you got to lose? Contact us today.